Maison de prose
Voyager la mode du monde
BRAND LEADERSHIP IN POST PANDEMIC TIMES
WE LEAP TO LEAD. TOGETHER.
Mode Diplomatique is a global creative maison.
We are Canadian trusted advisors to the world's leading businesses, governments, and institutions. Dior, London Stock Exchange, Montreal City Council.
We infuse drivers of luxury and finance creativity to help brands better being meaningful. That's what a Maison de prose means us: audacious expertises to expand your stewardship through realism of excellency (the House, la Maison) and straightforwardness of proficiency (the oratio, prosa).
We consult with organizations across the private, public and social sectors. Our passion, prowess and and pursuit allow us to trade on expertise, courage and valour instead of trading in tasks, services, and deliverables. We have deep functional and industry expertise as well as breadth of creative reach.
We are passionate about taking on immense challenges that matter to our clients and, often, to the world. We embrace scientific and artistic mindsets to rise your brand relevancy in a cacophony of technological insurgency, social interconnectivity and post-pandemic efficiency.
We engage you as we do with our people. We enhance your leadership expectancy at every level and every opportunity. We do this to help build gravitas, get to bottom lines, and execute practical solutions. We bring out your capabilities to build consensus in the process leading our ongoing work.
We reinvest brand strategy to address acceleration and disruption. We merge innovative competency with unparalleled value creation, deep global insights and artificial intelligence for high-precision market penetration, retention and consolidation. We tailor an insightful sum of approaches to enhance the visual (content elasticity) and the experiential (customer currency) musts needed in tomorrow's post Covid19 world.
Brands are already revisiting their core business model and mission to help make a difference.
Repurpose Branding is enacted. Rebranding Governance is enacted.
Are you a renewed purpose-brand ?
Sustaining profitability. Sustaining humanity.
Sustaining capacity. Sustaining solidarity.
Sustaining excellency. Sustaining advocacy.
To have your brand drive the purpose of sustainability is to have your brand nurture a renewed culture of excellency, humanity and profitability.
Primary services include:
Marketing strategy development
Social media marketing plans
Corporate branding and events
Content strategy development
Secondary services include:
Growth and change management
Digital sustainability and transformation
Agile and disruption management
Contingency and risk strategy
Business development and product innovation
We admire missions and values that shape brands, private or public, profit or non-profit, in bringing their core business appeal to leading and lasting impacts with technology and customers changing ever faster than markets can absorb change.
If you have a great product or service but are confused or frustrated about your sales and marketing plans, we would love to work with you.
la@modediplomatique.com or +1-647-273-2864
WE LEAP TO LEAD. TOGETHER.© 
CONSULTANCY FOCUS 
A brand is not only a wonderful place to work for but a school of values and live-how to learn and grow from.
To understand how to help brands become better purpose-organizations before and after the Covid19 pandemic is to help bring a new "problem-engaged" mindset beyond buzzwords of AI, disruptions, agility, authenticity, and to help find a new gratefulness for your people, your clients and your leadership.
Why? Because in today's world brands can't use past strategies.
We thrive to unlock extreme value that allows brands to grow disproportionately, be it a premium luxury brand, a bank, a mine, a hotel, a non-profit, a city government or a museum.
One behaviour we have found universal is the effort brands put into cultivating their communication style — tone, "presence," level of transparency, and authenticity.
The very best brands, leader brands, have learned that effective communication is as much about authenticity and attitude as the words they speak and write. They know who they are, how they lead and what road to take to deliver their messages and products, effectively capturing the attention and aspirations of their customers and stakeholders.
The very best brands are MEANING, NOT MARKETING.
WE LEAP TO LEAD. TOGETHER.© 
BACKGROUND
Alessandro Berga is a globally-recognized business consultant, and writer. Mode Diplomatique is hailed as one of the hidden marketing boutique gems in the world.
Alessandro has worked in strategy, global sales, M&A and marketing positions for more than 22 years and provides consulting services as Executive Director of Mode Diplomatique.
He has advanced degrees in eCommerce, marketing and corporate finance. For two years, Alessandro studied at HEC Montréal under Jacques Nantel, a world-renowned professor, consultant and author, hailed as the top Canadian expert of modern marketing.
Customized for every audience, Alessandro's solutions specialize in marketing strategies for content marketing, digital marketing, social media, and personal branding. His clients range from successful start-ups to global brands such as Lancôme, Mercedes-Benz, Dior, Bvlgari, Pomellato and the London Stock Exchange.
Alessandro's journey afforded him to travel the world nurturing relationships with people and brands from a wide variety of cultures, languages, and traditions —from startups to Fortune 500s.
Working with C-suite executives and CEOs over the years, Alessandro has sourced, secured, and sustained business relationships in French, English, Italian, Portuguese and Spanish, encountering numerous style and personality differences, along with varying business, customer and cultural priorities.
As a dealmaker, business diplomat and communications advisor, he has helped these brands by facilitating their journey. He earned their trust and mentorship to become a facilitator who builds consensus to influence agendas, go-to-market sales and global strategies at the highest levels of banks, credit unions and premium luxury brands.
Alessandro initiates his consulting diagnosis by immersing himself into the company culture and market data. He has the opportunity to bring in partners and  trusted experts from his vast network to develop additional insights.
"To me, the most important word in marketing is contextual relevancy," he said. "We can't just go in and brand what everyone else is branding. We need to sew new meanings from authentic heritages by leveraging relevance in any given culture, market and technology."
_
Substantial experience: sales and transactions acceleration, risk management and corporate M&A – deal sourcing, due diligence, execution, integration balancing short-term performance and long-term investment.
Significant expertise: digital transformation, strategic corporate communications, public affairs, social media, media relations, reputation, risk and brand management.
WE LEAP TO LEAD. TOGETHER.©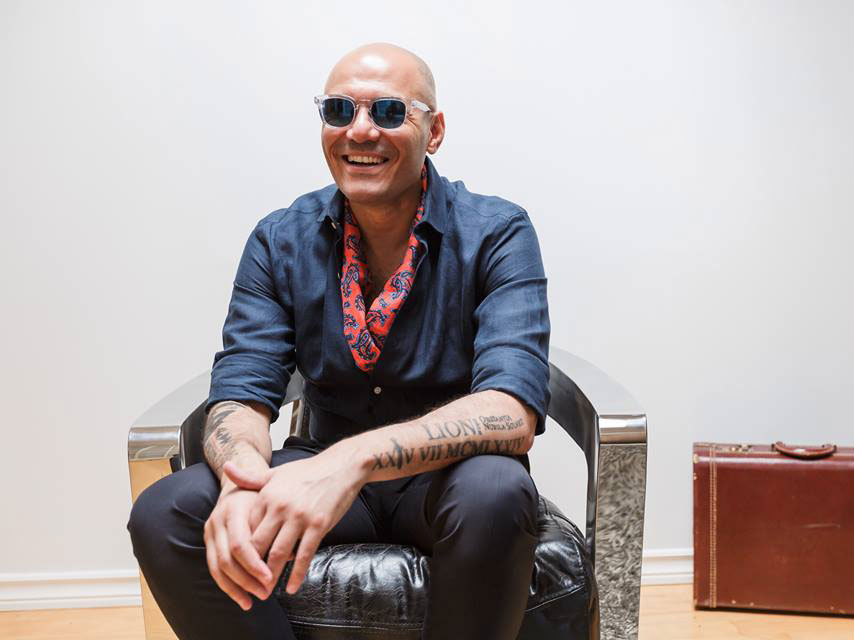 MODE DIPLOMATIQUE - BRANDING INSPIRATIONS
"Le sigle de Mode Diplomatique est formé d'une plume entourée d'ornements typographiques s'inspirant directement des armoiries anciennes, faisant référence à celle de Guillaume Apollinaire. Il souligne ainsi autant la prose que la créativité de son fondateur. L'ensemble forme un camé tel un bijou. La typographie Garalde, s'inspire des premiers caractères typographiques, sa forme légèrement condensée lui confère une sobre élégance. La composition du slogan, en petite capitale, fait également référence aux textes anciens dans sa forme. La combinaison des deux forme un logo intemporel, statutaire, comme s'il avait toujours existé, gravé dans le papier" Thomas Desnoyers
"The symbolism of Mode Diplomatique is made of a feather surrounded by typographic ornaments directly inspired by the heritage-fashioned coat of arms, referring to that of Guillaume Apollinaire. He thus emphasizes the prose as well as the creativity of its founder. The whole forms the appearance of a jewel. The Garalde typography has been inspired by the first typographic characters, its slightly condensed form gives it an understated elegance. The composition of the slogan, in lowercase, refers to the ancient texts in their usage. The combination of the two forms a timeless, statutory logo, as if it had always existed, engraved in the paper." Thomas Desnoyers